NEVER RUN OUT OF INSPIRATION TO MAKE HITS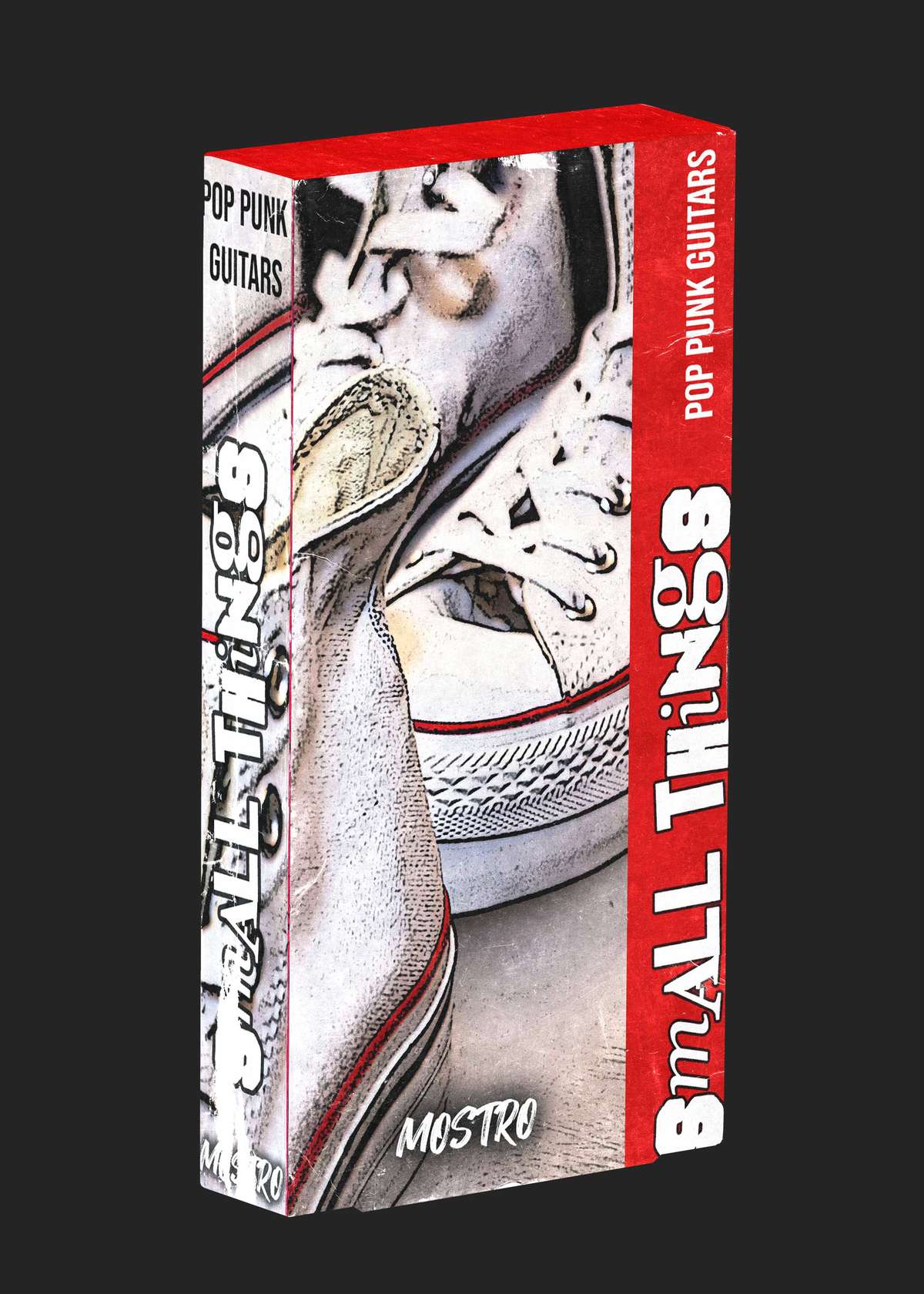 11 New, unique pop punk loops to stand out from other producers


490+ files and 1.08 GB


Creative Control Layers (Dry & Wet) for each loop


Speed Foundation files (bass & chords) for each loop so you can add other elements with a perfect match


Keep 100% of your profits


Works with any DAW


Money back Guarantee


Fast inspiration to make more music
She Stole my heart and wallet
This sample pack includes the Creative Control Layers and the Speed Foundation files.

These give you more freedom over what you can make with the loops and their different parts that you can mix and match to make entire arrangements around the melody.

And add the other elements of your beat in just two steps.
But wait... that's not all!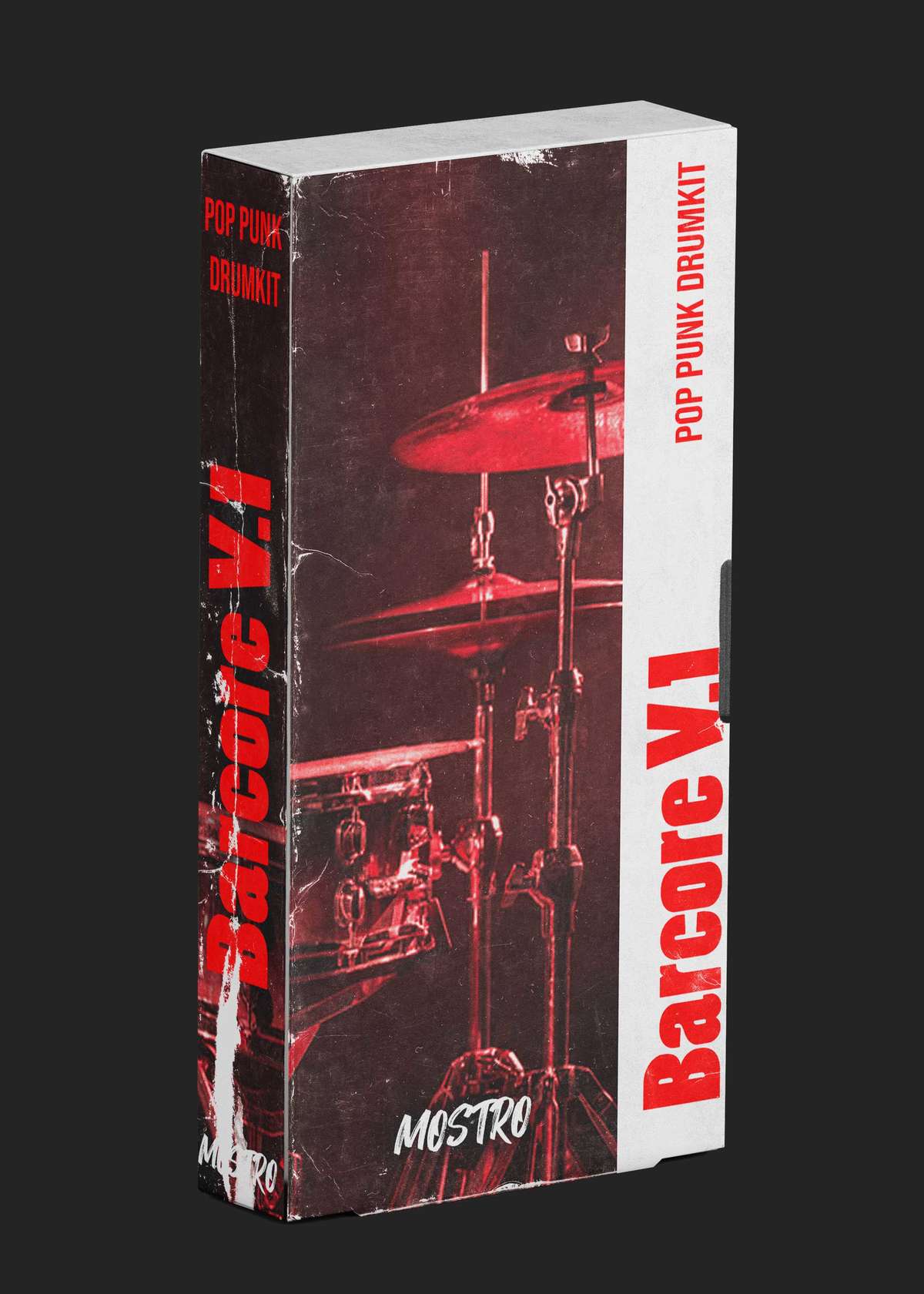 BONUS - Barcore V.1 Punk Drumkit
48 all new drum loops
11 HiHat Loops
60 one shots
Creative Control Layer files for each one
Made specially to match the Small Things Sample Pack
$27 in value
374 total files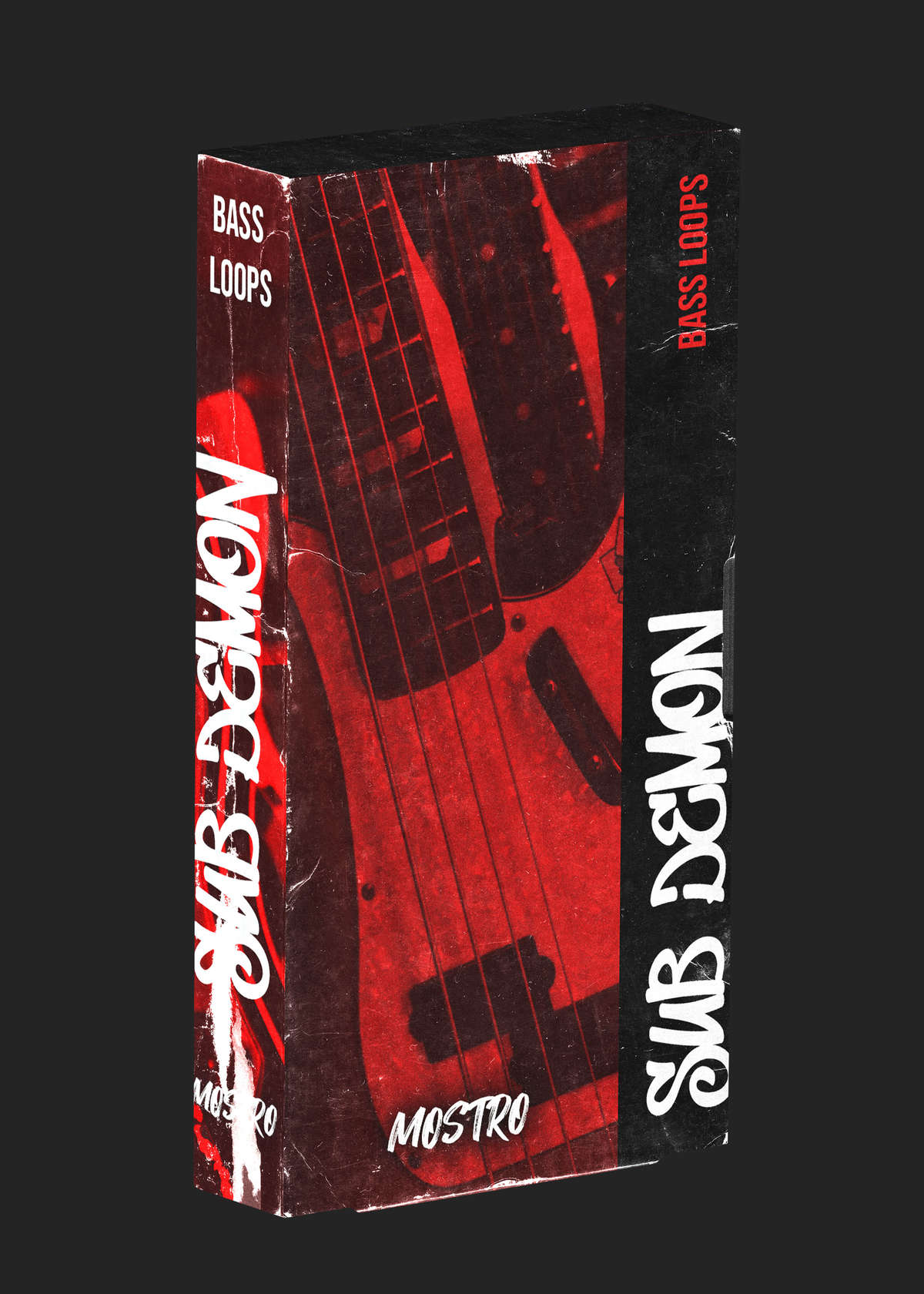 BONUS - Sub Demon Bass Loopkit
27 bass loops
Made specially to match the Small Things Sample Pack
$20 in value
High quality .wav files
She Stole My Heart and Wallet Bass IV
She Stole My Heart and Wallet Bass III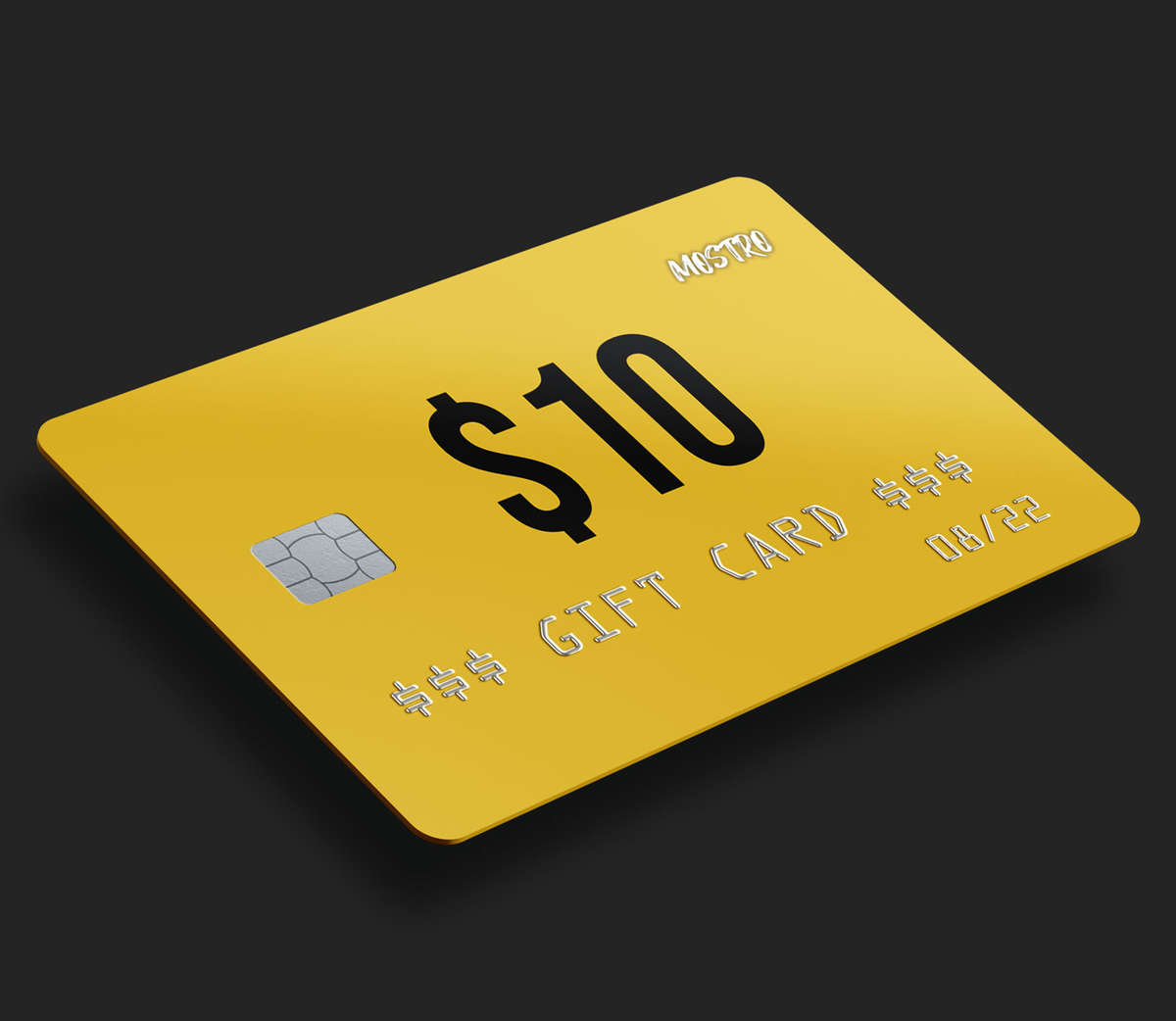 GET THE SMALL THINGS POP PUNK GUITAR LOOPS + BONUSES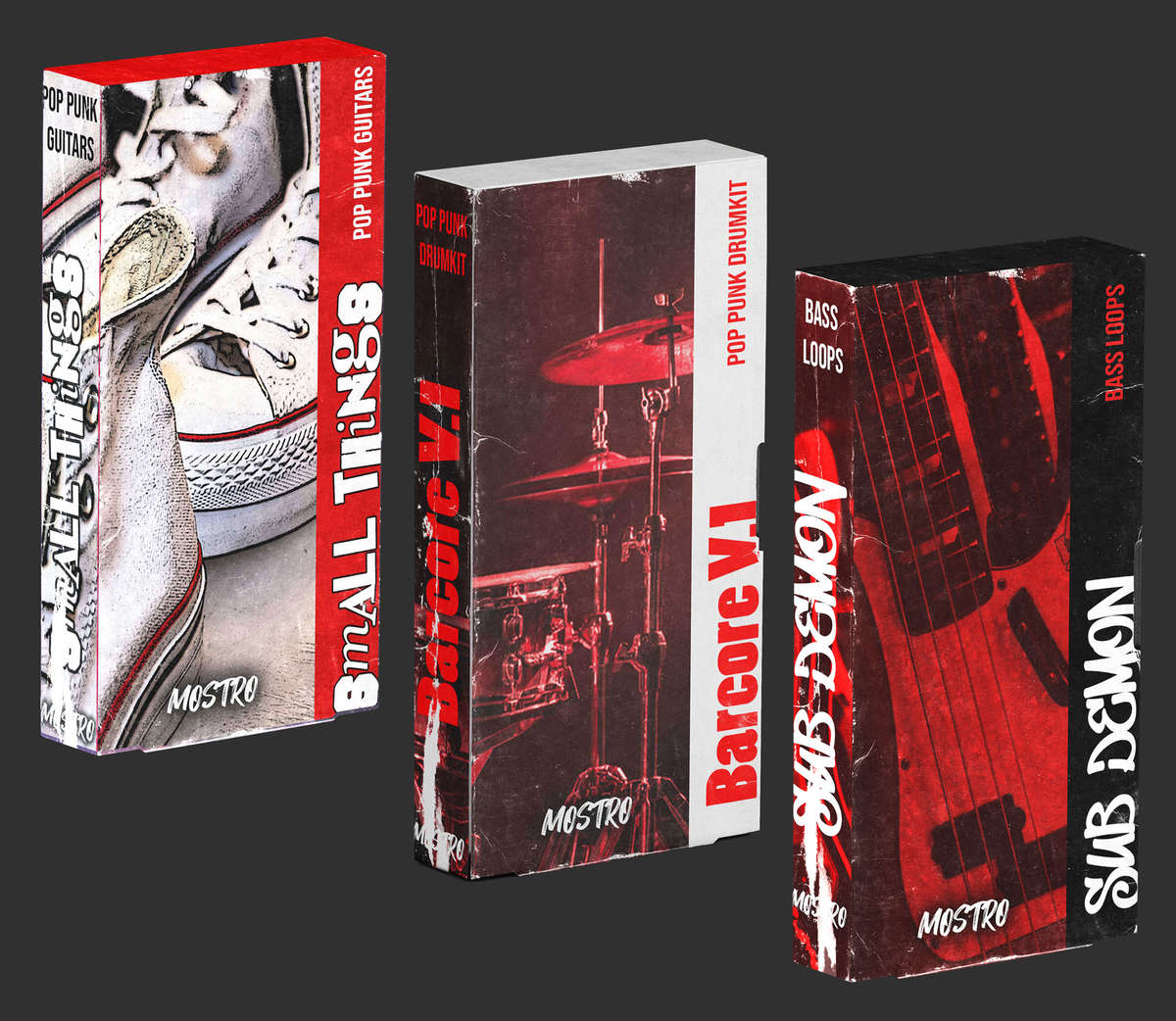 11 all new Pop Punk Guitar Loops
48 exclusive Punk Drum Loops
60 exclusive One Shots
27 exclusive Bass Loops
490+ files total
More than 1 GB of inspiration
$10 gift card
$80 in value
Recorded with pro equipment
Electric Distorted Guitars
Complete Creative Control Layers (separate tracks)
Bass & chords Speed Foundation files for each guitar loop
BPM & KEY information
100% royalty free
Works with any DAW
Money back Guarantee
Unlimited License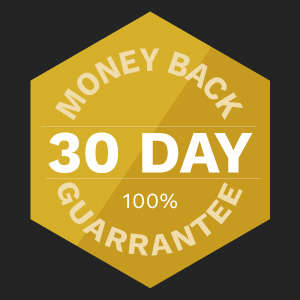 Don't love it? No problem!
We genuinely believe that our sample packs will inspire you and make an impact in your productions. We're so confident that if you're not happy with your purchase, you can get your money back or get another sample pack. Check our
refund policy
for more info.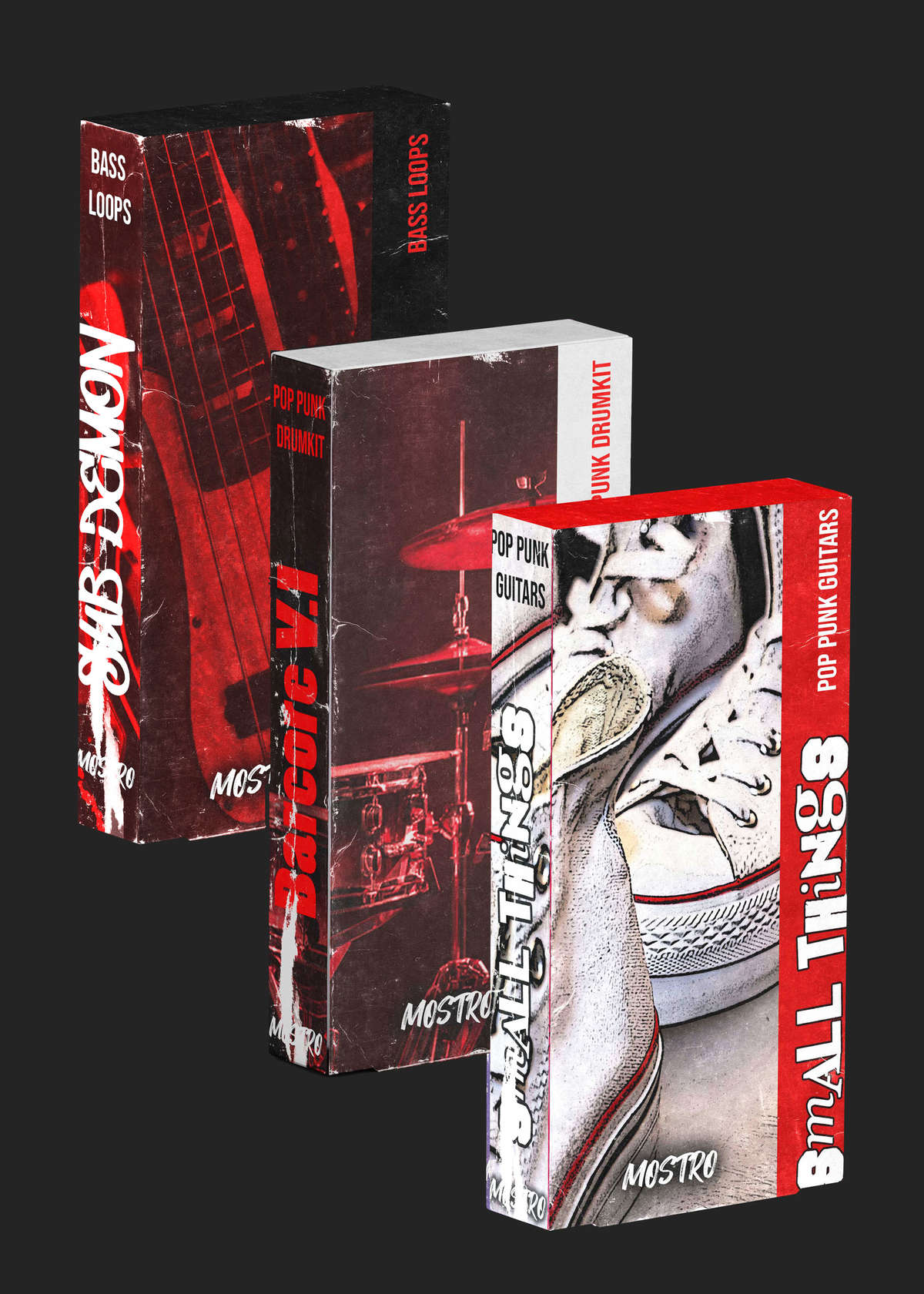 11 original Pop Punk type Guitar Loops

48 exclusive Trap Drum Loops


27 exclusive Bass Loops


60 one shots


490+ files total


Real guitars recorded with professional equipment
Electric Distorted Guitars


Creative Control Layers so you can use all the elements in the loops individually


Speed foundation MIDI files to easily drag and drop the chord progressions with your favorite vsts


BPM & KEY information


100% royalty free, cleared for commercial use


Works with FL Studio, Ableton, Logic, Garage Band, Cubase, Protools & more


Love it or your money back


$10 Gift Card


Unlimited License for all platforms and major
placements
FAQ
Will these work in my DAW?
Yes! These guitar loops will work perfectly with any DAW like FL Studio, Logic Pro, Cubase, Ableton and Pro Tools. The MIDI files work with any VST such as Serum, Massive, Sylenth1, Kontakt and all others.


What payment methods are available?
We accept all major credit cards and PayPal. We use encrypted checkout, your information is never stored or shared.


What are Creative Control Layers?
The Creative Control Layers are the separate tracks that make each loop. Some of our loops have many layers of different sounds. "Wet" Layers are processed tracks with effects (like reverb, compression, EQ, etc.); "dry" Layers are unprocessed and have the raw recording of the guitar.
Having the these layers allows you to have more space to play around, add your own sound and have full creative control of how to use them.


What are the Speed Foundation files for?
For each guitar loop, you will receive the MIDI chords and bass speed foundation files. Those 2 files have multiple advantages like being always in tune with your 808/bass, being in tune with the chords and being able to throw a pad or keys under the loop super quickly. This makes you more efficient to have a full beat with all the elements it needs in no time.


Are these really royalty free?
Absolutely, 100%. They include an unlimited license document and you keep 100% of the profits you make with your songs no matter how big you get, you keep all the money you make.


What licensing rights are included?
The license includes unlimited plays on streaming platforms Spotify, Youtube, Soundcloud, etc; beat lease sales on Beatstars, Airbit, and similar marketplaces; placements with major artists, and everything you can think of.


GET THIS PACK + BONUSES NOW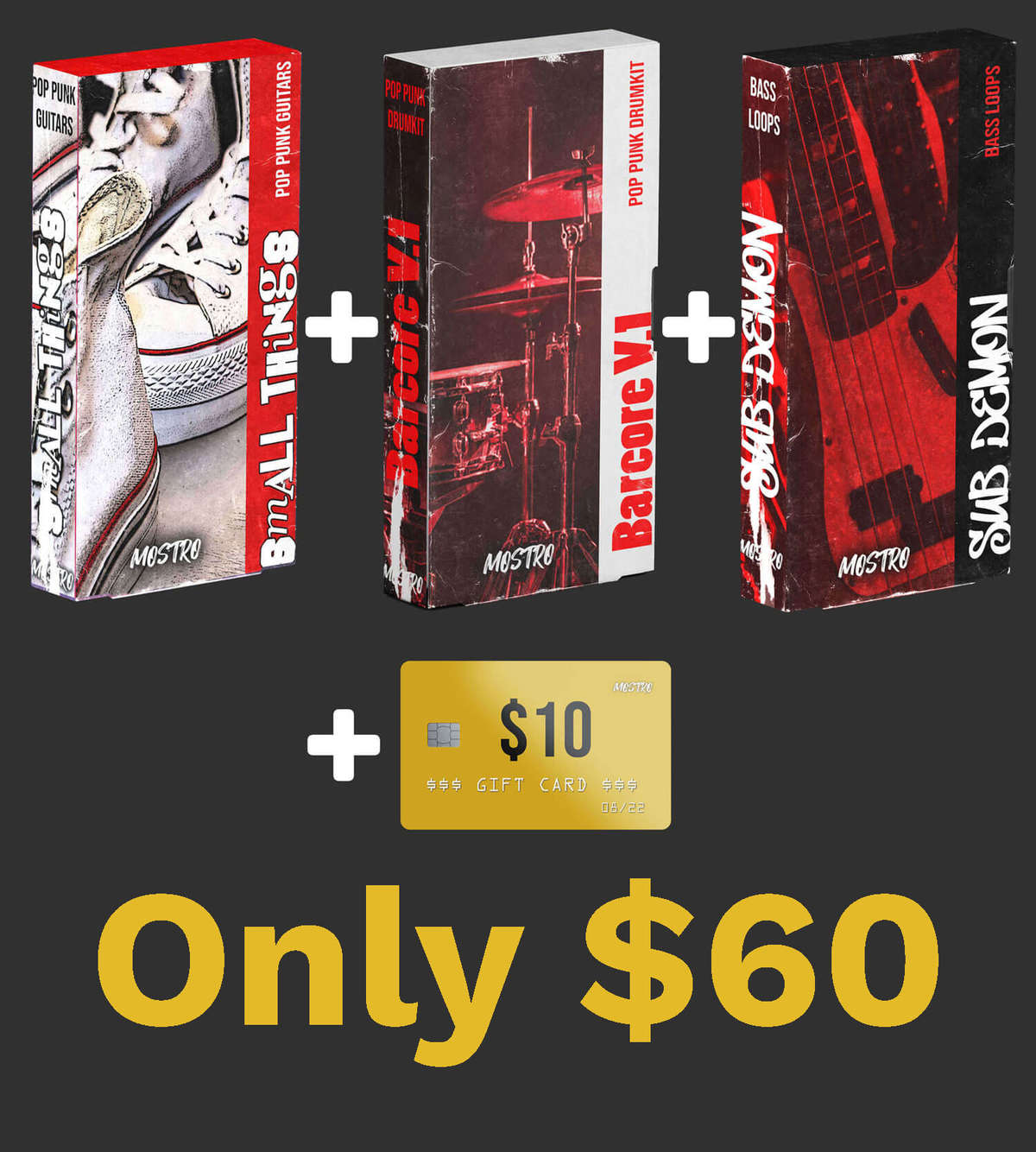 (At least) 11 bangers waiting to be made
11 New, unique loops to stand out from other producers
48 exclusive Punk Drum Loops
60 one shots
27 exclusive Bass Loops
All tested and mastered, proven to sound right
490+ files total
$10 gift card
Designed to mix and match
Recorded with real guitars by professional musicians
Electric Distorted Guitar sounds
Complete Creative Control Layers (Dry & Wet) –explore all the elemnts of the loop
Speed Foundation (Bass & Chords) files for each loop so you can add other elements with a perfect match
BPM & KEY information to quickly find everything you need
Keep 100% of your profits
Works with any DAW
Money back Guarantee
Get inspired and finish more beats